Cricket World Cup follows Rugby with an under-optimised schedule
Thought Leadership
Inspired by what you're reading? Why not subscribe for regular insights delivered straight to your inbox.
Just a few short weeks ago we wrote about this year's Rugby World Cup risking missing a chance to drive new levels of engagement in Rugby, as a result of poor scheduling decisions.  Well, it doesn't take long for history to repeat itself.   
The 2023 Men's ODI Cricket World Cup got underway at the start of October in Ahmedabad with a repeat fixture of the 2019 final between England and New Zealand. Following the opening rounds of fixtures, there is already discussion about low attendances, venue choices and match timings. The schedule for the round-robin group stage between the 10 participating teams was announced less than 14 weeks before the opening match. This is in contrast to the RWC draw, which was made almost three years before the tournament.
The late announcement, and subsequent alteration made three weeks later, is extremely unusual for a major global sporting event. However, it may have been a consequence of the multiple challenges when creating this schedule. The 45 group-stage matches take place across 10 different venues, meaning that significant travel is inevitable whilst aligning match timings to accommodate the different time-zones of fans watching across multiple continents adds further complexity. So too does the desire to maximise viewership of India games by scheduling as many of them as possible over weekends.
As well as dealing with these constraints, the schedule must aim to deliver an exciting group stage with jeopardy until the very end through high-stakes matches that determine which teams will finish in the top four positions in the table and progress through to the semi finals. 
At Twenty First Group, this is precisely the kind problem that we thrive on solving. As such, we have developed our own Scheduler Tool (the TFG Scheduler_) to be able to support rights-holders in overcoming these types of challenges. The TFG Scheduler deploys Machine Learning to create an entire end-to-end schedule for competitions, optimising their sporting excitement, fan engagement and commercial potential.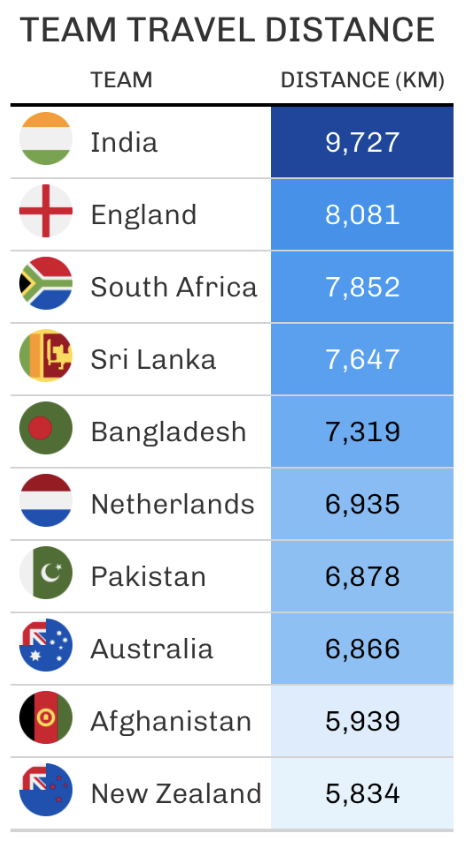 Travel
The geographical size of the host nation India provides a challenge to the schedule, particularly as the 10 venues chosen to hold group-stage games are spread widely across the country. Teams are having to undertake significant travel – both in terms of the frequency and length of journeys.
An optimal schedule would aim to achieve two main goals with travel. Firstly, to minimise the frequency and size of travel between games – as much as commercial obligations allow. The second would be to try and be as equitable with travel requirements across the different teams – as travel will impact recovery, match preparation and, ultimately, ability to deliver top-level performances.
The CWC23 schedule leaves a lot to be desired on this front. The total travel distance undertaken by each team ranges from 5,800km (New Zealand) to 9,700km (India) – a significant disparity. 
Additionally, there's a number of further inconsistencies. India and England move location every single match – the logic behind this being that they are the most popular teams and, as such, they want to give the opportunity to fans all over the country to watch them. In contrast, New Zealand play consecutive fixtures at a venue on 3 separate occasions, which reduces their travel frequency and subsequently aids their recovery, match preparation and familiarity with conditions – potentially giving them an advantage for those specific fixtures.

Jeopardy
The schedule should aim to maximise jeopardy as the group-stage reaches its climax, meaning matches that directly impact which teams finish in the top 4 (and reach the semi finals) should occur in the final few rounds of fixtures – to maximise excitement and drama.
TFG deploys simulations to infer a match jeopardy score by determining the swing in probability of the two participating teams making the semi-finals, depending on the result. Ideally, fixtures with the biggest swings would occur towards the end of the group-stage – hence these rounds are weighted as more valuable in our calculation. Our schedule optimiser is able to pick the configuration of matches which maximises this weighted score.
We assess the CWC23 schedule to have an optimisation score of 60% – meaning it's not bad but certainly could have been improved. A number of key match-ups occur very early on during the group-stage, whereby the pressure and significance of the tie is not as heightened as if it had taken place later on closer to the climax of the group-stage. This reduced jeopardy has potentially been the cause of disappointingly low attendances in some of the early fixtures.
Match Timings
Another challenge facing the schedule is staging matches during times which are more suitable for the home fans of the participating nations. Given the vast range of time differences for teams involved, relative to India, it's not always possible to fully accommodate viewers.
This tournament has taken a fairly rigid approach by starting almost all matches at 14.00 local time, with only 6 fixtures starting at a different time (all at 10.30). This approach makes sense for consistency reasons by securing a regular time-slot ('appointment to view'). However, if the start times for matches were more flexible, between a window of 10.00 to 15.00 local time – this would enable an increase of almost 10% in watching hours between 7am and 11pm for fans at home in playing teams
Conclusion
A tournament's schedule can be critical to ensuring the sporting product it delivers maximises performance levels, excitement, tension and, ultimately, its legacy.
Whilst the 2019 Cricket World Cup is synonymous with its dramatic finale, courtesy of a super-over, it can't be forgotten that England had must-win fixtures against India and New Zealand at the end of the group-stage. This made for an incredibly high-jeopardy end to that stage of the competition.
For the CWC23 schedule, there is enormous commercial value inherent in maximising the number of games that India play – as not only hosts but by far the biggest cricketing superpower. Therefore, a schedule which unduly hampers their chances of progressing would have a significantly adverse impact on the tournament's commercial success, and equally any schedule should seek fairness across all participants.
The RWC23 has fallen foul of this mistake, with its draw made too long before the tournament began and subsequently meaning that two of the strongest and most commercially-attractive sides will be eliminated at the quarter-final stage.
The 2023 Cricket World Cup will hopefully deliver another thrilling tournament for cricket fans across the world – however, TFG believe there was certainly room for improvement with the schedule to further enhance its quality, jeopardy and connection to fans. The TFG Scheduler Tool is designed to deliver optimal schedules for competition rights-holders and is now being put to use for a range of upcoming competitions across the global sporting calendar.
If you would like to find out more about our Scheduler Tool and broader Competition Intelligence services, please get in touch with Ben Marlow