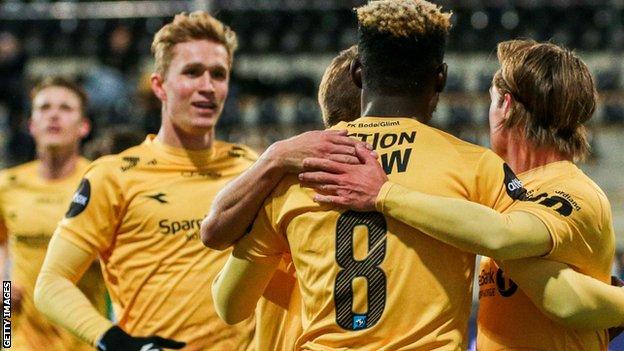 These sorts of things aren't supposed to happen this far north.
Until the 1970s, football clubs from northern Norway weren't allowed to play in the country's top flight. Organisers thought they would be unable to compete with their southern rivals.
FK Bodø/Glimt, a club from the small Arctic Circle city of Bodø, nearly 800 miles north of Oslo, is used to proving people wrong.
In 1975, they won the Norwegian Football Cup. In 2020, they went one better.
Bodø/Glimt didn't just win last season's Eliteserien league championship for the first time in their history, they walked it. They didn't just break records, they smashed them.
The 81 points they collected is the most ever. So is their 19-point winning margin. And their 103 goals – scored in 30 games – is 16 more than the previous record.
Three years ago, Bodø/Glimt were playing in the second level of Norwegian football with a budget of €4.5 million.
After being promoted in 2017, they were nearly relegated in 2018. In 2019, they finished second, before clinching their improbable title last year.
There is no single reason to explain how this team with a far smaller budget than most rivals have beaten the odds. There is no magic potion or silver bullet.
At the heart of Bodø/Glimt's unlikely triumph is a willingness to embrace a different way of thinking. A willingness to go their own way.
Focusing on performance, rather than results, meant Bodø/Glimt kept faith with their head coach Kjetil Knutsen after the 2018 season. Knutsen guided his team to their record-smashing 2020.
Bjorn Mannsverk, who served as a fighter pilot for the Norwegian Air Force in Afghanistan, was brought in as a mental coach. Through sessions with players, Mannsverk introduced meditation and mindfulness. Players talk of how this helped foster an open and supportive culture.
That culture also has a proudly local flavour. The club want 40 per cent of their squad to be from northern Norway. It is an approach that resonates with fans and has instilled a strong identity.
The togetherness in the squad has helped it thrive while playing a fearless style. The expansive, attacking approach is described as "kamikaze" by captain Ulrik Saltnes. He credits the work the players do on mental performance – as much as physical – for being successful playing this daring way.
Bodø/Glimt have found success from thinking differently. But that doesn't mean traditional values are out of fashion.
A video posted online by the club's technical director shows the unity in the club. After the match that clinched the first league title in Bodø/Glimt's 104-year history, the squad travelled by coach to a hotel in Oslo where two teammates were locked down after returning from international duty. The video shows shirtless players piling off the coach into a frigid night. They look up and start jumping and singing on the street as their teammates join in from their hotel room balcony.
This was a victory everyone had played a part in – it was only fair everyone joined in the celebrations.
Frode Thomassen, chief executive of Bodø/Glimt, says the club's achievement is for the whole region.
"It makes people proud that we, a little club from the north of Norway with fewer resources than other clubs, can compete on that level," he says.
"We have achieved something that should not be possible."
21st Club/Twenty First Group is proud to work with innovators like FK Bodø/Glimt. If your club wants to find competitive edges to outsmart your rivals, get in touch.
https://www.twentyfirstgroup.com/wp-content/uploads/2021/01/Bodo-glimt.jpg
351
624
Adam Watson
https://www.twentyfirstgroup.com/wp-content/uploads/2021/02/Logo-black-blue-main.svg
Adam Watson
2021-01-11 12:35:31
2021-03-24 15:14:36
In the Arctic Circle, an underdog rises to the top